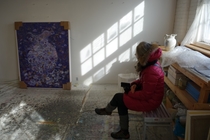 Alice Ledogar Denison, b. long time ago, NYC. Currently living around the Bay State.

Statement:
My painting is an exploration, an excavation, of decoration and its symbolic possibilities. Flowers are my usual means. I came to them through the fabric, embroideries, and needlepoint that my grandmother and her sister worked with throughout my childhood, which filled my house growing up. My interest is in expressing what I experienced as the true emotional and psychological content of these familial stitches, which hid so much pain: in each cheerful decoration, something real was repressed.

Decoration is often in the background, on walls and furniture. My work pulls it forward.
Massachusetts Cultural Council Artist Fellowship 2018
Artists Resource Trust Award 2013
Education
MFA, Massachusetts College of Art
BA, Mount Holyoke College
Represented by
Gallery NAGA, 67 Newbury Street, Boston, MA; 617.267.9060
Alden Gallery, 423 Commercial Street, Provincetown, MA; 508.487.4230
The South Street Gallery, 18 South Street, Greenport, NY; 631.477.0021